GreenPoint Rated Existing Home Multifamily
December 6, 2021 @ 8:00 am

-

December 10, 2021 @ 12:00 pm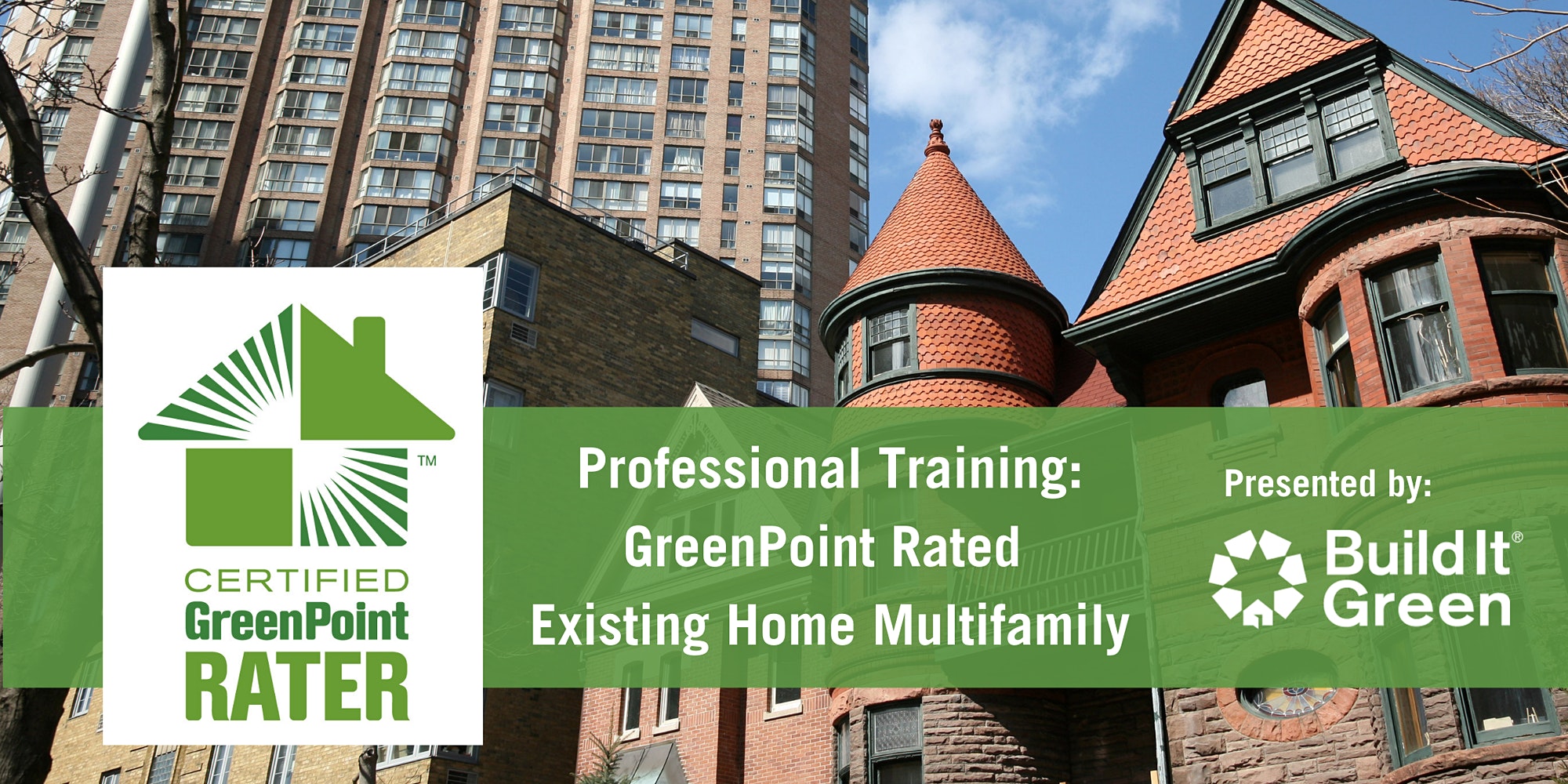 This course covers the policies, processes and program requirements unique to the Existing Home Multifamily rating system.
Pre-Requisites
You must apply to the GreenPoint Rated Program and receive eligibility verification before registering for this training.
Learn more about the GreenPoint Rated Program, and Apply to become a Rater or Advisor.
You must have passed GreenPoint Rated CORE with 80% or higher to move onto the GreenPoint Rated New Home and/or Existing Home trainings.
This 20-hour course covers the policies, processes, and program requirements unique to the Existing Home Multifamily rating system. It addresses current trends in existing construction and illustrates the role of the Rater and Advisor in the green building process. After passing the exam you will receive your certification as a GreenPoint Rater or Advisor for multifamily existing homes.
Topics covered in this course: The role of the Rater in the design, review, and maintenance of green homes.
Verification protocols for Existing Home Multifamily measures, including:
Energy efficiency and building envelope
Water-conserving systems
Ventilation practices
High-efficiency systems and equipment
Indoor air quality
Waste and site measures addressing resource conservation
Design considerations and commissioning for multi-family project
How to calculate climate change benefits
How to leverage the resources of Build It Green and GreenPoint Rated
Format
Training:
Location: Live Streaming Online, Zoom Platform (Link to be provided once registered)
Monday, December 6 | 8AM – 12PM
Tuesday, December 7 | 8AM – 12PM
Wednesday, December 8 | 8AM – 12PM
Thursday, December 9 | 8AM – 12PM
Friday, December 10 | 8AM – 12PM
Exam (Virtual):
Friday, December 10 | 1PM – Tuesday, December 14 | 1PM | Available for 96 hours to complete
Fees and Registration:
Training and Exam: $599
Exam Re-take: $50
Cancellations / Refunds
View Build It Green's Terms and Conditions
Instructor
The Association for Energy Affordability, Inc. is dedicated to achieving energy efficiency in new and existing buildings in order to foster and maintain affordable and healthy housing and communities, especially those of low-income. AEA representatives engage in a broad range of educational, technical and construction management activities and services to promote this mission and develop the industry that advances and sustains it.