Certified Green Building Professional (CGBP) Training
March 15, 2022 @ 6:00 pm

-

April 7, 2022 @ 8:00 pm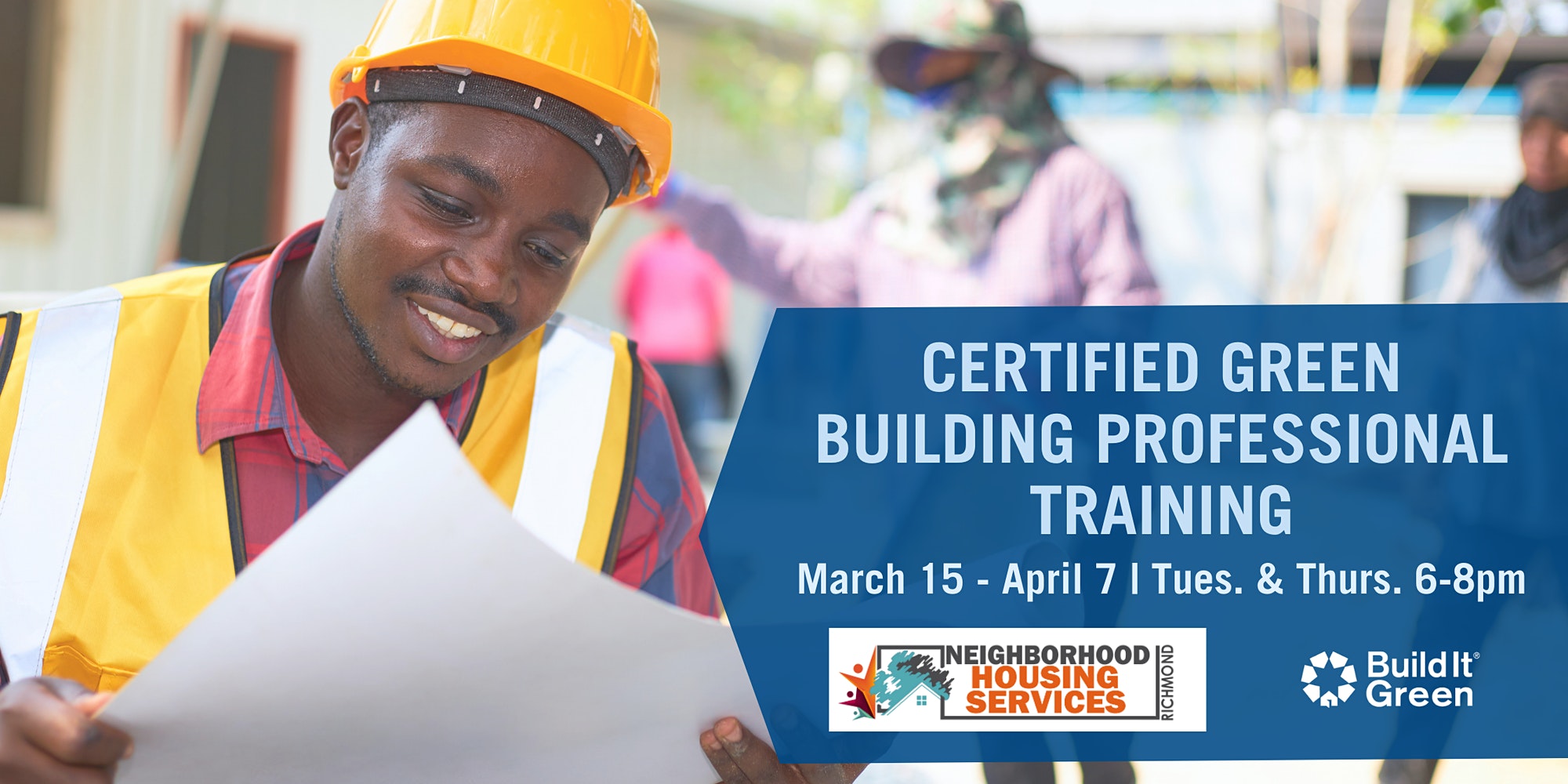 Become familiar with the main principles of green building and the systems approach to the design, construction, and operation of buildings.
This 16-hour course introduces the main principles of green building and the systems approach to the design, construction, and operation of buildings. It provides an understanding of energy efficiency, resource conservation, water conservation, and indoor air quality, and how to effectively convey the importance of these principles and market your business to homeowners.
Key topics include:
Energy: Understand the essentials of conservation, efficiency, and renewable energy as they apply to framing, insulation, windows, water heating, appliances, heating/cooling, and lighting.
Resource Conservation: Explore best practices in job site waste/recycling, landscaping, water conservation, efficient framing, durability, and material choices.
Indoor Air Quality: Learn about design choices that can improve indoor air quality, including low VOC products, finish materials, ventilation, filtration, mold prevention and best construction practices.
Developing and Marketing a Green Business: Learn how consumer preferences, marketing tools, and effective language can play a role in developing and marketing a green business.
Format
Training: Live-streaming webinar format comprised of presentations, interactive pop-quizzes, and Q&A with a seasoned green building consultant take place over four weeks on Tuesdays and Thursdays from 6pm – 8pm. The full schedule appears below:
Week 1: Tuesday, March 15 & Thursday, March 17 | 6pm – 8 pm
Week 2: Tuesday, March 22 & Thursday, March 24 | 6pm – 8 pm
Week 3: Tuesday, March 29 & Thursday, March 31 | 6pm – 8 pm
Week 4: Tuesday, April 5 & Thursday, April 7 | 6pm – 8 pm
Exam: The course concludes with a one-hour open book, multiple-choice exam. There are approximately 45 questions and a passing score of 80% is required to receive the Certified Green Building Professional certification. If you do not receive a passing grade, you may order a re-take exam.
Thursday, April 7 | 7 PM – Monday, April 11 | 8 PM | Available for 96 hours to complete
Fees and Registration
Training and Exam: $599
Re-take Exam: $50
Cancellations / Refunds
View Build It Green's Terms and Conditions
Instructor
Marc Richmond has been involved in the construction industry since the late '80s, both as a builder and a green building consultant, and has developed applied and educational green building programs for government agencies, non-profits and private firms. His comprehensive curriculum helps professionals be effective at implementing green practices into their daily work and teaches consumers to make good purchasing decisions.
Marc is energized by a diverse classroom and has a unique talent for helping individuals see the role they serve in spurring market transformation. He specializes in designing green building tools, rating systems, and training programs that are understandable, buildable for professionals, and valued by consumers. His experience as a builder, businessperson, educator, and green building program manager makes him focus on simple solutions that will make the target audience take the actions that are needed.
Pre-Requisites
None
Be sure to spread the word to your colleagues and peers!