Guide to All-Electric, Lower Cost Multifamily Buildings with EV Charging
March 31, 2022 @ 11:00 am

-

12:30 pm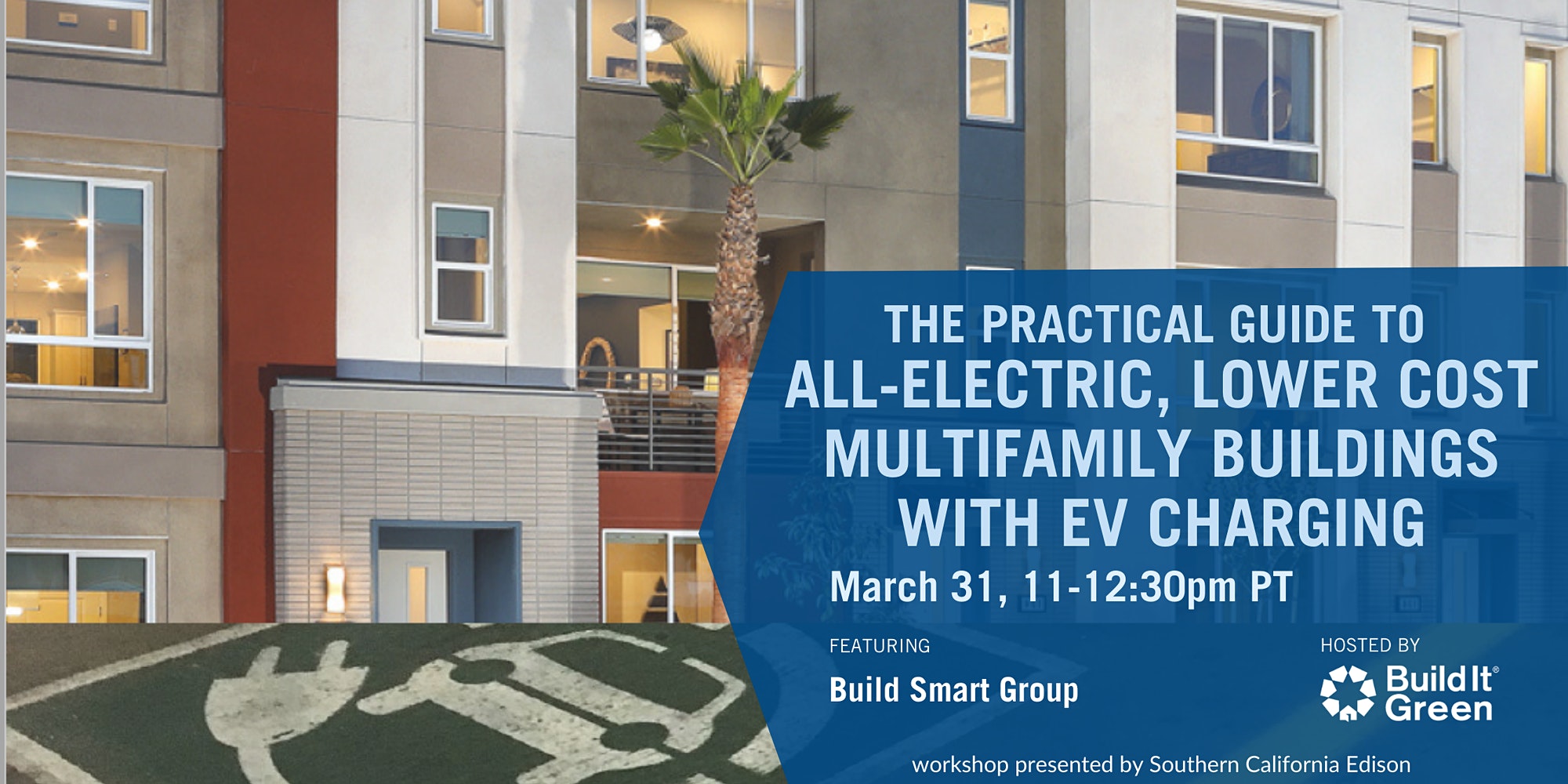 For architects, builders, developers and engineers to gain confidence in building all-electric multifamily buildings with EV chargers.
This virtual course will provide architects, builders, developers, and engineers, with the confidence and knowledge to build all-electric, future-proofed, multifamily buildings with the advantage of electric vehicle (EV) charging. This class will demonstrate, with actual examples, how all-electric multifamily buildings are easier and less costly to build, maintain, and operate. This class will give attendees proven methodologies for proactively seizing this opportunity – and avoiding common pitfalls. New incentives that can cover 100% of the cost of installing EV chargers will also be covered.
Learning objectives of this session include:
1. Learn the difference in first costs to the builder and utility costs to the residents of all-electric multifamily buildings and the revenue possible through installing EV chargers for residents to use
2. Take advantage of incentives to future-proof new multifamily buildings with EV chargers and all-electric designs
3. Understand the Title 24 and CalGreen codes as they apply to all-electric multifamily buildings and EV charging and how to meet their minimum requirements
About the Instructor: Nick Brown is President of Build Smart, an energy consultancy specializing in California energy modeling, building performance, and energy training. Build Smart support architects in designing energy-efficient buildings with code-compliance documents, optimize high-performance buildings, and design and teach energy-related classes across California.
Nick Brown is a Certified Energy Analyst (CEA) for residential projects and an Associate Energy Analyst (AEA) for nonresidential projects, certified by the California Association of Building Energy Consultants (CABEC), and has maintained his certifications for the 2008, 2013, 2016, and 2019 code cycles. He certifies compliance with the California energy code on approximately 200 residential and nonresidential building projects annually. Nick was elected to the Board of Directors of CABEC beginning in 2018 and was selected Member of the Year for 2019.
This event is sponsored by Southern California Edison and is offered to attendees at no cost. Registrants of this class will be opting in to have their email address shared with Southern California Edison for a post-class survey. If you would like to opt out from having your email address shared, please contact Build It Green at info@builditgreen.org.